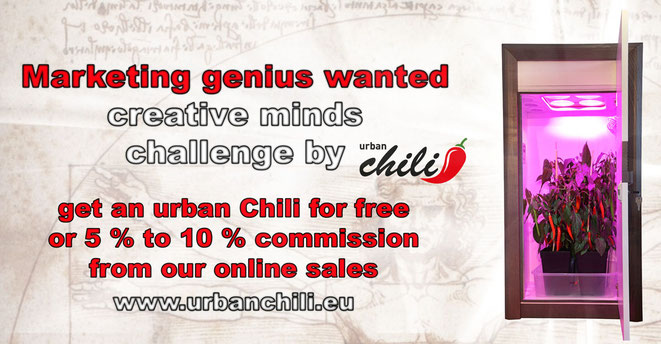 We are looking for someone who promotes urban Chili with particularly creative marketing and thus brings our online sales figures further up.
urban Chili should disappear in the living room, but many more people know that urban Chili is absolutely cool and works very profitably. In operation, the Growbox is also very cost-effective. Damn we were already in Playboy, the thing is just sharp.
What we offer as the main prize:


After the selection process, we offer the person or the team that is selected 5% or 10% commission on the additional sales (net) generated in our online shop, with delivery adress in USA. With 1 year contract, with monthly billing. People can be very profitable if you are good.
We would like to give you until 01.07.2018 time to apply.
The promotion is already the challenge, we want to see what you can do. Produces proven activity with the product urban Chili. These can be likes, views, visits, or what is meaningful as you demonstrate the activity. The creative factor also plays a big role in the final selection.
All applications submitted by 01.07.2018 will be scored.


Place 1 gets the 1 year contract with 5% or 10% commission (depending on individual or team) on the additional sales in the urban Chili online shop with delivery adress in USA. Monthly evaluation and billing + 1 urban Chili kit
Rank 2 and 3 also receive an urban Chili kit worth € 1,499.
Places 4 to 10 will receive a -50% coupon when you shop in our online shop.
We would be very happy if you accept the challenge and we will have a great time together. urban Chili is really cool, and if you're good, you can earn something with such a high commission. The whole thing will be a good reference for sure. By mutual pleasure, there may be a longer business relationship.


Informal application to info@urbanchili.eu
Good luck, your urban Chili team


Each participant agrees that the work created in the Challenge may be published. If you do not want to be mentioned by name, please let us know separately.
Our image / video material may be used.
FAQ
What about paying for the first place?
There are two times a 1st place, once for the delivery address Germany and Austria. And once for the delivery address America. A 1-year contract is offered for these delivery zones. Where the winner (can be an individual or team) receives 5 or 10% commission from the extra sales in our online shop.
What gets place 2 and 3?
Place 2 and 3 will only be awarded once, and the winners will receive an urban Chili classic kit worth € 1499 for free.
What will get the seats 4 to 10?
A shopping voucher with - 50% for our online shop.
How does the payout work?
Once a month, period of observation the month in the previous year (when we had no marketing support) compared. If 10 urban Chili have been ordered more in our online shop will be the commission in the example 625 or 1249 € including evaluation sent to the middle of the following month. In return, we need an invoice from you in the commission statement. Special solutions such as longer collective invoices are also possible. We have to clarify that in detail.
Is there a budget for the contract year, what is it?
That depends on the sales figures and will be discussed at the conclusion of the contract.
Who can join, who has the best chances?

The challenge is to demonstrate that you can generate a lot of activity around the product urban Chili. How to do that is up to you. The urban Chili should be presented positively, that is the only rule. Of course, it is very beneficial if you can create pictures or videos. Bloggers or people who are well connected are also very much in demand.
Do I have to compete alone or can you help me find a team?

From the 01.05.2018 enough participants should be there, and it will set up a Facebook group, so you can network.
What should the end product be, are we talking about an animation or a freeze frame?

For the challenge you are welcome to create a picture or an animation with urban Chili. Some pictures are also needed as presentation pictures. But it is not enough just to create a picture or an animation that is brilliant. You also have to be able to transport these. If this skill is needed, we advise forming a team.
Does a slogan have to be included?
No slogan is needed, if you want to make one, it's up to you. The urban Chili product should be part of the job. The rest you should come up with.
Does urban Chili have to be clearly visible in the final picture?
YES
Where will you use the final result (image or animation)?
On our website and all channels available to us.
The material is said to be heavily duplicated.
Will the image or film material be integrated on the urban chili website?
Pictures can also be part of the website.
Is it physically printed?
If in magazines, or print media. Flyer is also possible. However, the resolution does not have to be compelling for the print sector.
What is the message your company wants to communicate?
The product is a really sexy, useful lifestyle product, you just want to have urban Chili. Talk to friends, have a common hobby and read perfect plants to grow. Hope our site is bringing this message?
Do you still care about this challenge?
The challenge will be promoted more aggressively when we have received the first results from participants. We will post blogs reports about the material we get. We post via Facebook. The challenge itself is also helpful marketing.
Please, if you have questions, do not hesitate to ask.
It would be cool if you participate in the challenge.
Have fun and success
the urban Chili team
---